Magnetic Name Tag Magnets

Strong Neodymium Name Tag ID Name Badge Magnets, All Types Round and Rectangle Neodymium Magnets Name Badge for Clothing, Badge magnet Name Badge Magnetic Attachments, Magnetic Badge Holder China Supplier.
Magnetic Name Tags
Looking for an easy way to display employee names without putting pesky holes in shirts? Our Magnetic Name Tags are the perfect solution! Most of them come with a magnetic fastener option which is a metal plate on the back of the name tag that makes pinning hassle free. They are easy to put on and off while not damaging employee apparel.
Plus, you can get your magnetic name tag custom made to match your unique workplace. Include your brand, logo, and employee name for an incredible display of camaraderie. Check out our wide selection of materials and colors to get started today!

Product Advantages:
1) All the material is non-toxic conform to Europe standard.
2) Magnet insides are neodymium material, which is most strong in magnetic materials.
3) Easy and reusable. Magnetic name tag holder is easy to use – simply place the magnetic attachment under your clothing and your ID badge stays in place.
4) Safety. Unlike clips and pins,magnetic name tag holder won't harm your clothing and skin in any way.
5) Reusable. If you want to change your role or business name at different occasions, just remove the old card/printing paper .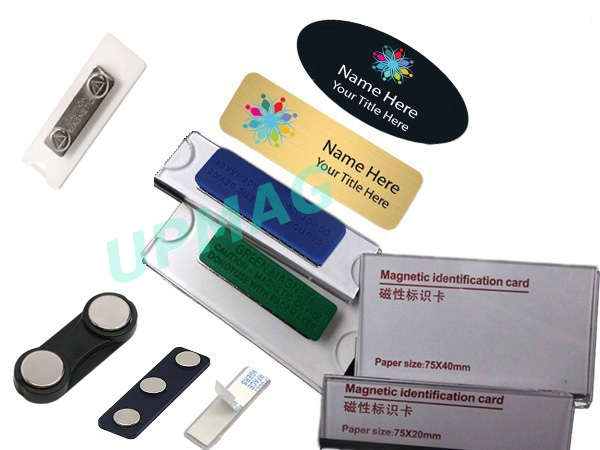 Never again use clips or pins to hold your name badge to valuable garments. Remove adhesive liner and adhere steel plate to back of name badge. Two/Three powerful neodymium disc magnets are mounted to metal plate and placed inside garment to attract name badge.
Will not leave holes, tears or other damage to fabric
Ideal for home, office and school.

Who uses magnetic name badges ?

Many women prefer magnetic name badges as more delicate clothing is ill-suited to a clip or pin. Men are just as comfortable as magnetic name badges are strong enough to stay in place on thick blazers, ties or work clothes.

Magnetic name badges and magnetic name tags can be produced in a variety of styles with or without the company logo or insignia. Printing can be in full colour or a range of metallic effects. So we have different types for your choose .

We accept your custom shapes, styles and colors.
We can also customize Magnetic name badge according to customers' size and design requirements, please feel free to call us at any time if there is any questions pls feel free to contact:

Product Category