Magnetic Shuttering System

Magnetic Shuttering Solutions for Precast Concrete Formworks, Shuttering Magnetic box,Precast Concrete Formwork Magnet, Formwork Magnet, Magnetic Formwork System, Formwork System Magnet, Precast Concrete Shuttering Magnet

Magnetic shuttering solutions for precast concrete formworks!
The precast concrete industry has been searching for a more economical and efficient formwork method. In the past, some conventional magnets were used to position and fasten the formwork, but considerable mechanical loads with a hammer were required, which was easy to damage the magnets and the surface of the expensive formwork tables as well. In order to facilitate the formwork activities, UPMAG is developing and manufacturing our own shuttering magnet to solve this problem successfully.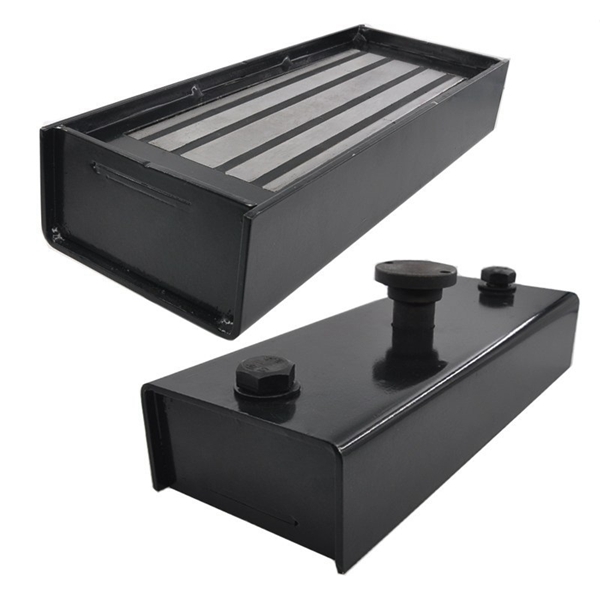 Our shuttering magnet provides quick operation leading to improved efficiency when setting out and breaking down the formwork. It consists of a switchable NdFeB magnet unit and a steel casing which forms a certain designed magnetic circuit. By pressing the button on top of the steel casing, this magnetic force is activated so that this magnet can fasten the formwork to the steel table tightly. In a deactivated mode, the magnet is easy to position. By means of two threaded holes integrated on the top, this magnet can be equipped with various adapters, which can provide unlimited options for use.
Characteristics:
. Use with wood or steel formworks
. Easy to operate
. Simple and exact positioning
. Adhesive force ranging from 450 Kg to 2100 Kg
. Avoid welding or bolting to the formwork table therefore preserving surface finish
. Same magnet can be used for different purposes
. Intergrated threaded holes to adapt formwork
. Adapters to be custom made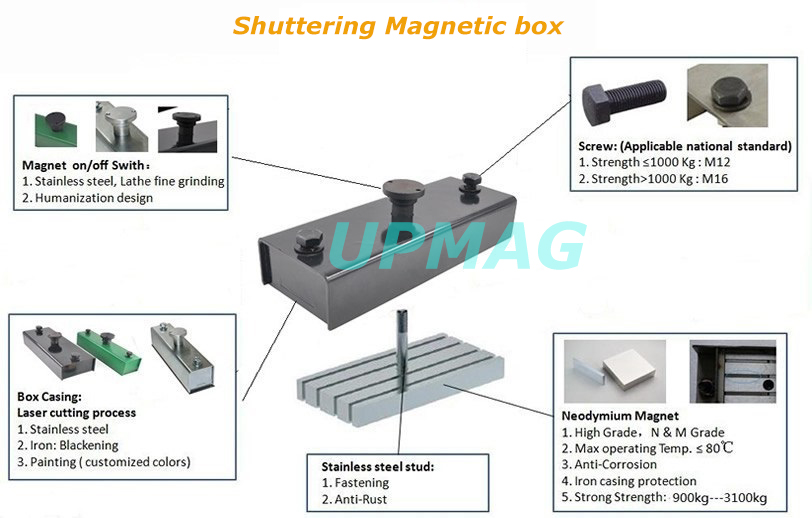 KEY BENEFITS OF Precast Shuttering Magnet:
1. Reducing the complexity and time of the installation of formwork (up to 70%).
2. Universal use for mass production of concrete products, and piece products of all forms on the same steel table.
3. Eliminates the need for welding, shuttering magnets does not damage the steel table.
4. Makes it possible to produce radial products. Formwork Shuttering Magnet for Precast Plant
5. A small cost of a set of magnets. The average payback of about 3 months.
6. The main advantage of the shuttering magnets is that you do not need to have a lot of different forms for different products, you need to have a set of magnets, adapters for different height boards and steel table.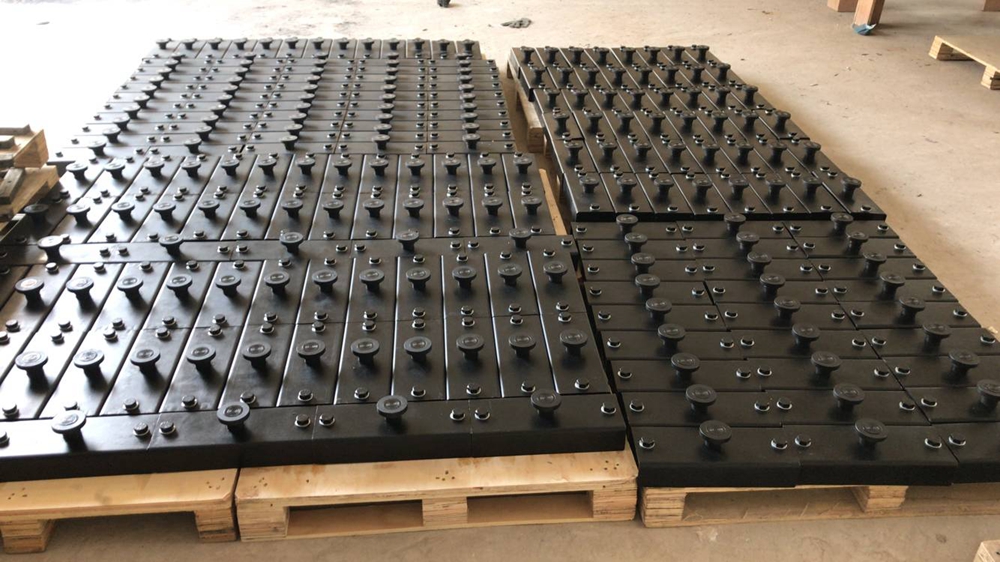 Concrete Magnet Lever, Crowbar for Shuttering Magnet, Shuttering Magnet Lever Tool, Magnet Box Lever, Precast Formwork Magnets Lifting Level China Supplier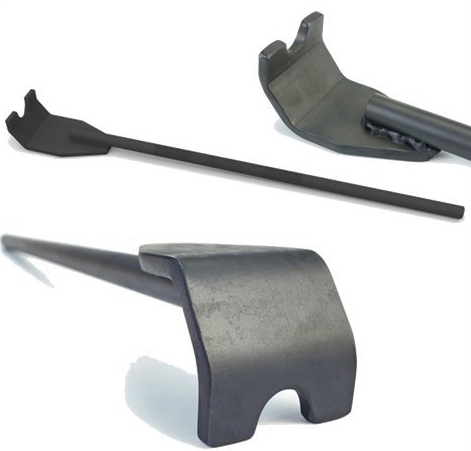 The Shuttering Magnet also named precast concrete Magnetic Box are made of super strong neodymium magnetic system inside of the steel case. It can be activated by simply pressing down the button by the hand or foot. To deactivate them, the magnets are easily released by release lever (to pull the button on). In the inactive position, the shuttering magnets can be easily removed from the table form.
Magnet Release Levers are available for all models of Push-button Magnets and for U-shape magnets.
This lifting tool is for shuttering magnets of our line, it is strong available for all our shuttering magnets.
With this tool,it is convenient for you to use our shuttering magnets freely and help you out from awkward hand power.
We can make different type with customs requirement Shuttering Magnet Levers.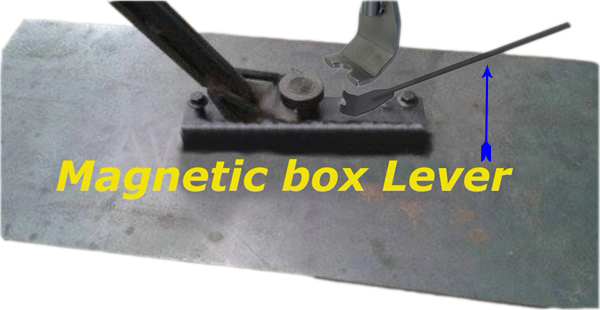 Precast Shuttering Magnet Adapter, Steel Adaptor, Magnetic Box Adaptor, Shuttering Magnet Steel Adapters, precast steel adaptor with magnetic box to fix different formwork, Concrete Formwork Magnet Adaptors & Adapters China Supplier

Formwork Shuttering Magnet Adaptor & Adapter
(Mounting elements of board equipment)
Complex shuttering system (Shuttering Magnets) is based on Unit with magnet and upper works in the form of Adapters.
Adapters represent possibility to exhibit the advantages of MAGNETIC SHUTTERING to the full extent such as:
Manufacturing of items 60 to 500 mm
Manufacturing of any level items of complex and radial shape
Fixing of board equipment to pallet without welding
Board equipment mounting time saving up to 70%
Not any longer exists necessity of warehouse storage of big number of standard forms, as a result, giant economy at manufacturing of new items
Cheapening at manufacturing of piece and finishing accessories to 20%
We offer various Adapters, both serial and produced according to drawings of the customer.

Used with our shuttering magnets together, high strength, good rigidity, special edge tooth design can close engagement with the magnetic chuck , strong coupling, in under the action of external force does not produce any gap, loose, make the final concrete wallboard quality to achieve the optimal.
Precast produced shuttering magnet adapter LC which is simply usage for the wooden formwork head onto shuttering magnet. When the precast concrete need to cast on the steel platform, the wooden need to fix into steel platform.
Material: Q215, Q235 Iron Parts
Surface Treatment: Black / Yellow Oxidation Treatment
Description:
Magnetic Box Adaptor is a steel bracket for fixing the unit shuttering magnets to the steel panel when manufacturing precast concrete panel wall. The adaptor is fixed with two screws on the magnetic box simply. It's customized to produce according to customers shutter system specifications.
We can make different type with customs requirement.

Shuttering magnet is consist by neodymium block magnet, and steel house,the magnet is very big size thus the magnetic force is very large.
Precast magnet box, a magnetic tool to hold concrete formworks. After setting the magnet to the formwork,concrete could be inject into the formwork, The concrete will be formed trimly just as the formwork likes.Shuttering magnet is made of big block Neodymium Magnet and the steel house, there are two hex bolt and a round handle button on the top of the Precast Concrete Magnet, the hex bolt is for fixed with adapter and handle button is for push to use.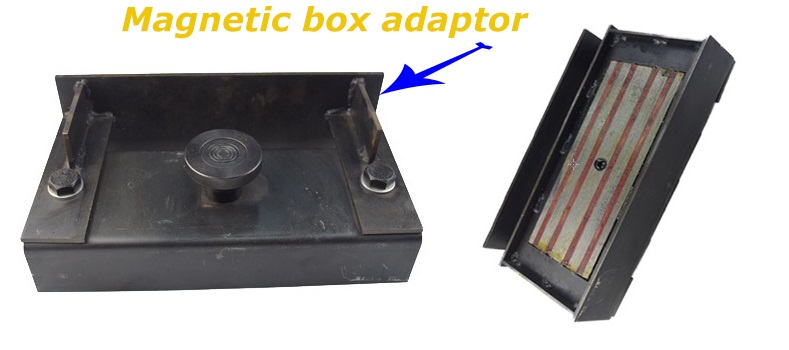 The sizes we can supply as follows:
U-shape Precast Magnet ,loaf shuttering magnets , precast concrete shuttering magnet, shuttering magnet without push-button, U-shape shuttering system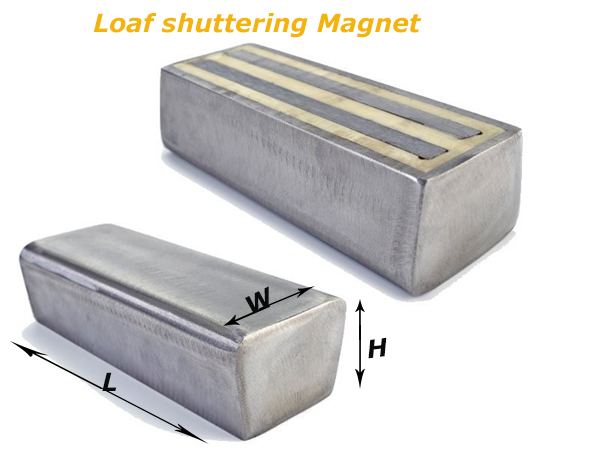 The sizes we can supply as follows:


U60 Shuttering profile magnets,Precast Concrete Magnetic Formwork, Shuttering System, Shuttering Magnet Two Sides Chamfer, Shuttering System for Edge Formwork
This formwork-system, U-profile Shuttering System, consist of a formwork-profile (steel) with integrated magnetic tension-mechanism, which can be used in different formworks. It is specially suitable for the production of filigran- respectively double walls and lattice girder ceilings.
By mean of the tension-mechanism, the profile (layer is planed) is pulled to the bottom of the shuttering, so that an exactly edge of the manufactured item is managed. For the system is one unit, measuring mistakes are not possible. The easy and quick handling increases the work safety. Using the corresponding lever, the system can be taken off and removed easily from the bottom of the shuttering.
By mean of the separated arrangement of tension mechanism and handle-knob, and tension mechanism and shuttering, the forces acting on the formwork and on the magnet during the concrete process are absorbed.
The built-in tension elements are placed in a save position, so that the formwork-system is less sensitive against soiling.
To make possible a stacking up, and to prevent that the formwork stick to each other, the knob is made out of antimagnetic material. The system can also be delivered storeroom- and robot capable.
With defect the old shuttering, by remove from 3 screws, can be easily exchanged.
Declining shapes and dimensions on demand.
Using the Concrete Formwork Magnet is very convenient, construction workers could build a concrete formwork on a ground ,and fit two hex bolt with the adapter onto the the concrete formwork. There is another means of using the concrete formwork magnet,workers could hold the concrete formwork on a hydraulic platform,build and stock the concrete walls,and using forklift and crane to carry the walls while using them.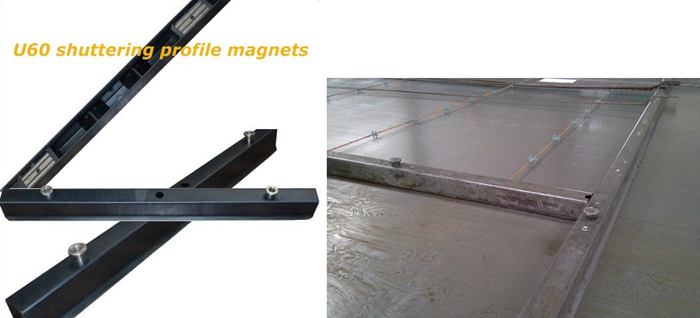 The sizes we can supply as follows:

Concrete Formwork Magnetic Pipe Fixing Plate, Bushing Fixing Magnet, PVC Pipe Embeded Fixing Magnet, Plastic Threaded Magnetic Bushing Assembly, pipe embeded socket fixing magnet, Neodymium Pot Magnet China Supplier


This magnetic bushing assembly is composed of Neodymium Magnet, steel casing and thread rod. The use of magnetic bushing is quite simple.Set bushing magnet on the steel panel formwork and place PVC pipe on the bushing magnet. then add concrete around the pipe.The contact surface should be clean and flat otherwise will reduce its actual magnetic force. By using a hexagonal tool. you could easily take the bushing magnet off. Inserted fixing magnet,also known as Embeded Fixing Magnet, inserted socket fixing magnet, embeded socket fixing magnet, magnetic pipe ixing magnet,precast concrete fixing magnet. is the new magnetic assembly in precast concrete industry. It is the best solution to fix the inserted socket in precast concrete panel.
Bushing magnets, also called the bush magnets or magnet bush assembly.Magnetic bushing magnet is mainly used for premade holes or pipes on precast concrete,using magneic bushing magnet is the best solution for precast concrete industry.
Magnetic bushing magnet is made up of a strong Neodymium Magnet,a steel armuture and a thread rod. The magnet are with anti corrosion coatings to enhance its using spram. Round Fixing Magnet for Holding Steel Panel and Formwork, Concrete Formwork Magnetic Pipe Fixing Plate
The set of threaded bushing magnet is very easy. Place a thread bushing magnet and insert a short pipe outside it.Then add concrete around the pipe within the steel formwork.Build bathroom or kitchen with these concrete slabs is very simple, just bush pipes with a suitable pipe fittings. Get back the bushing magnet is also simple, just use a hexagon tool.
Threaded bushing magnet, or socket bushing magnet, inserted bushing magnet, is a magnet assembly for preset PVC or PE pipe bushings.Threaded bushing magnet is made of Neodymium Magnet, steel casing and thread rod. The bushing magnets are with anti corrosion coatings which will enhance its using spram. The magnet should be used on clean and flat surface ,or will reduce its magnetic force.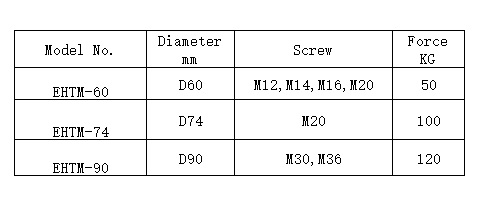 Solid Steel Type Magnetic Former, Magnetic Recess Former Metal, Magnetic Former for Capstan lifting anchor, Magnetic Steel Recess Former, Swiftlift Foot Anchor Magnetic Recess Former, MonoBlock, Magnetic Formers, Stay put magnetic steel recess former and swift foot anchor assembly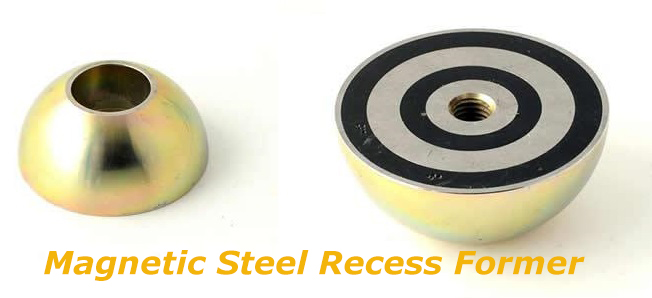 Magnetic recess former is a good and fastest way to fix and position lifting pin anchor and build recess on the steel formwork. The magnetic recess former can help lifting pin anchor to change the position quickly and precisely. The magnetic recess former did not need mold hole to arrange former stud like rubber recess former. It can extend steel formwork life and non-damage. Also the magnetic recess former need rubber seal to prevent concrete into recess. The lifting pin anchor with double head did not need the rubber seal.
The Capstan Anchor can be installed in metal moulds by the use of magnetic formers. These are used where the lifting anchors are not accessible when casting. They are available in load groups from 1.3t to 10.0t.

For more details or any inquiry pls contact : info@upmagnet.com
Product Category