Neodymium skilltle pin Magnets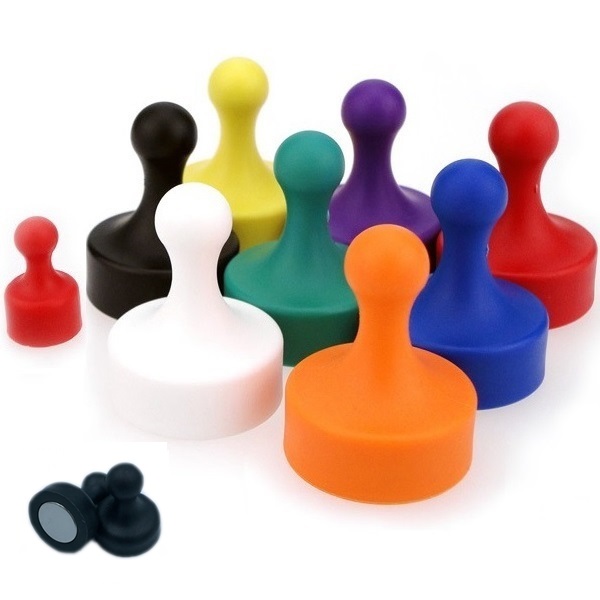 High Power Skittle Pin Magnets, Powerful thumbtacks magnets,Super Strong Rainbow Neodymium Skittle Pin Magnets, Coloured Skittle Magnets, Rare Earth Neodymium Push Pin Magnets
Skittle Pin Magnets Feature:
Skittle Tenpin Magnets Part No.: PSMC-15P
Material: Plastic wrap+Strong Neodymium Magnets
Size: Large Size:29*38mm(D*H),Middle size:19*25mm(D*H),Small size:12*20mm(D*H)
color:Yellow,Red,Green,Blue,Black,Orange,White Or Customize
Our Super High Power Rainbow Skittle Magnets are available in rainbow colors and are powerful Notice Board Magnets. They have a small 12mm / 19mm / 29mm dia footprint so that they do not obscure the document being held in place and yet are easy to hold, remove and reposition. Inside each plastic molded skittle is a very powerful neodymium magnet which is 13mm dia x 5mm thick.
Add some style to any office or classroom noticeboard. These rainbow or chrome skittle magnets look great on any noticeboard, filing cabinet or even fridge. As each skittle has a tiny Neodymium magnet it makes them surprisingly strong for their size. Each magnet can support up to 15 sheets / 25 sheets / 40 sheets of A4 80gsm photo copy paper against a metal surface, filing cabinet, white board, fridge or even magnetic paint.
What's more, because of their shape they don't obscure the items being held but are really easy handle, remove and reposition. These magnets are held in place by the Magnetic Face and have a maximum operating temperature of 50 degrees C.
Bring your office whiteboards to life with our comprehensive range of magnetic visual aids. Highly effective and economical too, they provide a simple, no-fuss way to enhance visual planning and are ideal for use in offices, meeting rooms, training rooms and school classrooms.
Transparent skittle Pin Magnets:
Skittle Tenpin Magnets Part No.: PSMC-16P
Material: NdFeB Magnet + Clear Plastic housing
Shape: Skittle / Tenpin
Size: Ø 11 mm x Thickness 17 mm(D*H),Ø 15 mm x Thickness 21 mm(D*H),Ø 23 mm x Thickness 25 mm(D*H),Ø 27 mm x Thickness 33mm(D*H)
Plating: Ni-Cu-Ni (Nickel)
Color: 7 assorted colors, blue, green, yellow, white, purple, pink and red
Max Hold: 15 DIN A4 pages
Application: Ideal for holding items on Filing Cabinets, Whiteboards, Bulletin Boards, Magnetic Maps and Refrigerators. Perfect for Home, School and Office
Weight: 8 g
Max Temp (degrees C): 80
Tolerance: + / – 0,1 mm
Fixing: Magnetic Face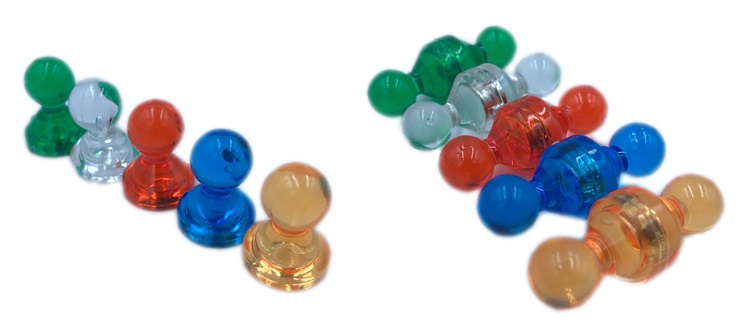 Stainless Silver Powerful Neodymium Pin Magnets Ø12 x 16mm, Small Silver Super Strong Neodymium Skittle Magnets, Stainless Steel Skittle Pin Magnet
Material: NdFeB Magnet + Metal housing
Skittle Tenpin Magnets Part No.: MSMC-17P
Shape: Skittle Pot / Tenpin
Size: Dia Ø 12 mm x Thickness 16 mm / Dia Ø 16 mm x Thickness 20 mm
Plating: Ni-Cu-Ni (Nickel)
Color: Silver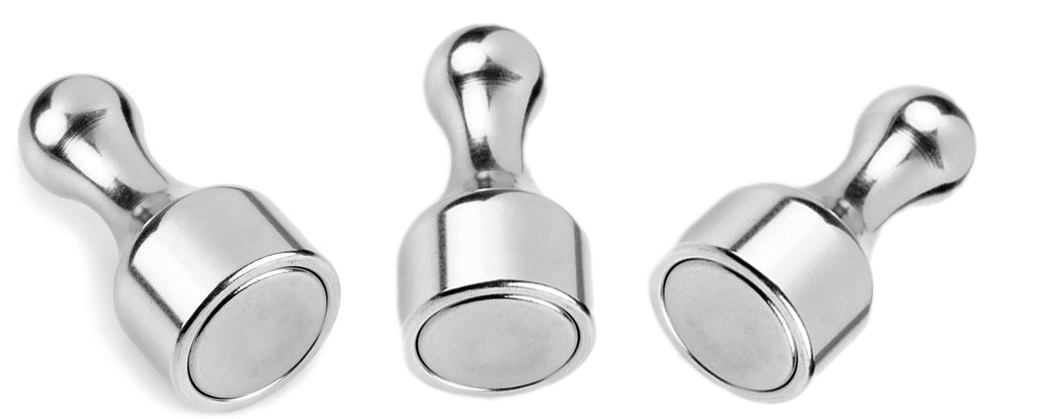 Stainless Silver Powerful Neodymium thumbtacks Magnets Ø12 x 16mm, Small Silver Super Strong Neodymium Skittle Magnets, Stainless Steel Skittle Pin Magnet
Material: NdFeB Magnet + Metal housing
Skittle Tenpin Magnets Part No.: MSMC-18P
Shape: Skittle Pot / thumbtack
Size: Dia Ø 12 mm x Thickness 16 mm / Dia Ø 16 mm x Thickness 20 mm
Plating: Ni-Cu-Ni (Nickel)
Color: Silver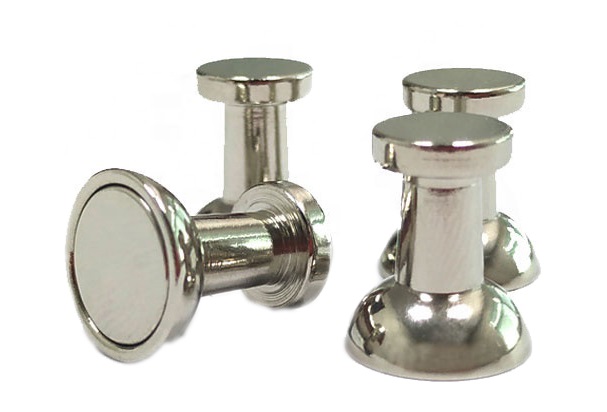 Stainless Silver Powerful Neodymium thumbtacks Magnets Ø16 x 20mm, Small Silver Super Strong Neodymium Skittle Magnets, Stainless Steel Skittle Pin Magnet
Material: NdFeB Magnet + Metal housing
Skittle Tenpin Magnets Part No.: MSMC-19P
Shape: Skittle Pot / thumbtack
Size: Dia Ø 12 mm x Thickness 16 mm / Dia Ø 16 mm x Thickness 20 mm
Plating: Ni-Cu-Ni (Nickel)
Color: Silver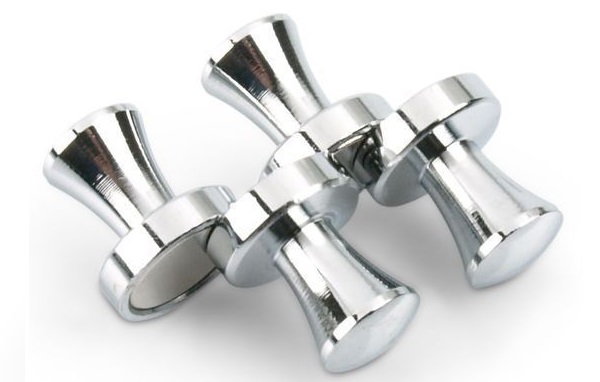 Stainless steel Magnetic pushpins , Small Silver Super Strong Neodymium Skittle Magnets, Stainless Steel Skittle Pin Magnet
Material: NdFeB Magnet + steel housing
Skittle Tenpin Magnets Part No.: DMG
Shape: Skittle Pot / thumbtack
Size: see the table as belows:
Plating: Ni-Cu-Ni (Nickel)
Color: Silver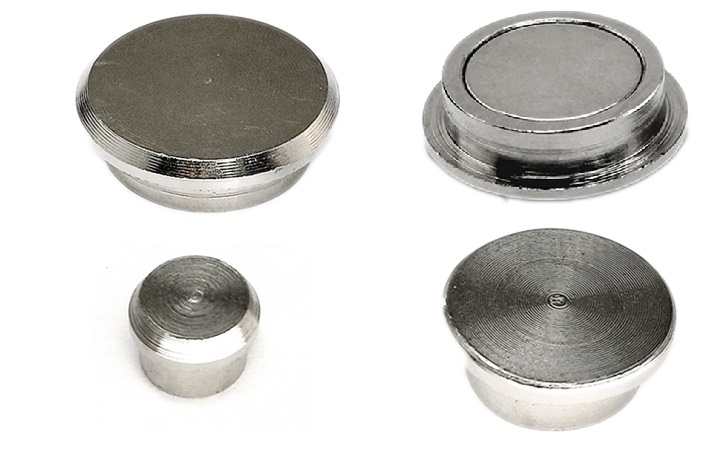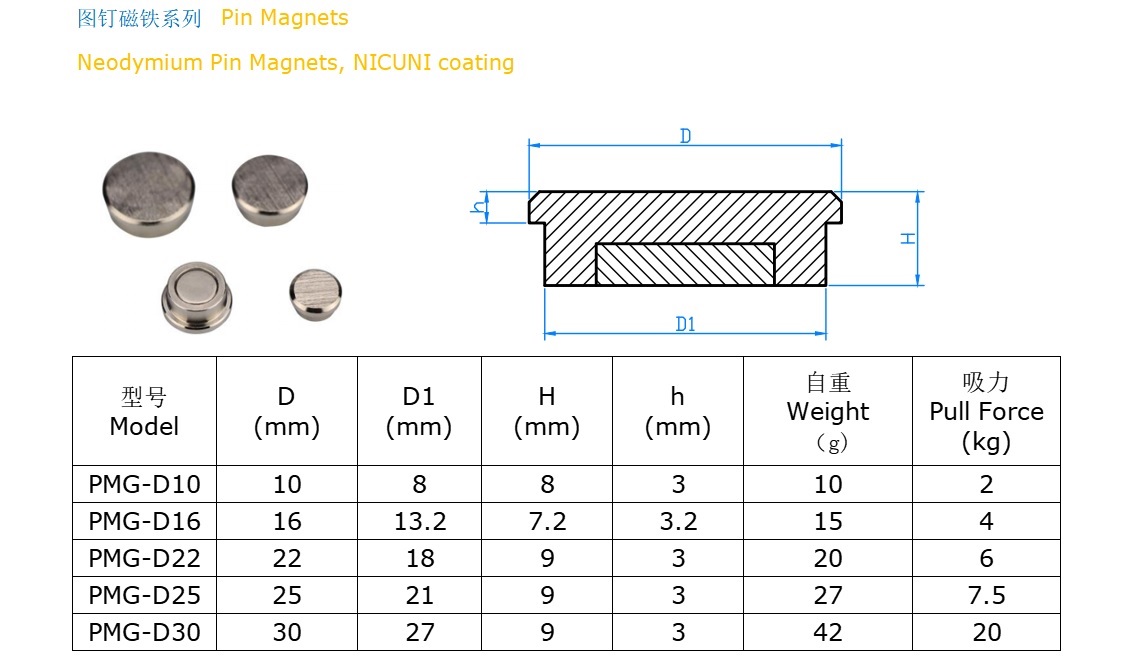 For more details or any inquiry pls contact : info@upmagnet.com
Product Category