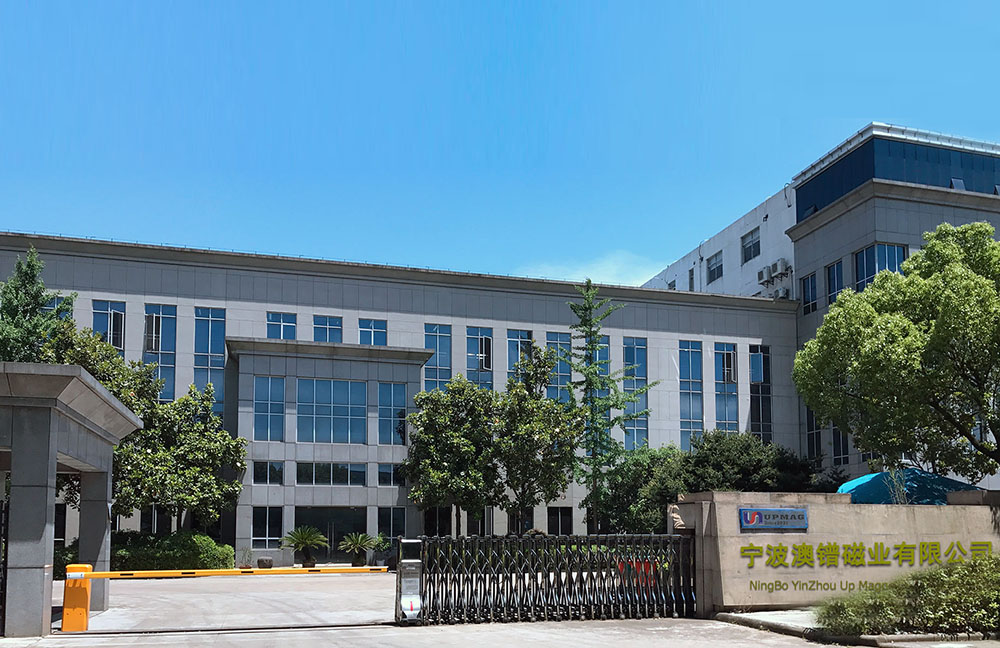 NingBo YinZhou Up Magnets Co.,Ltd
NingBo YinZhou Up Magnets Co.,Ltd(Union Powermagnets Co.,Ltd) is one of the leading Chinese manufacturers and suppliers of Permanent Magnets. With over 10 years experience in this field, we are supplying all ranges of permanent magnets and magnetic assemblies worldwide.

We are specialized in Sintered NdFeB,AlNiCo magnets also supply Sintered SmCo, Hard Ferrite(Ceramic), Bonded NdFeB, which are widely used in VCM, MRI, motors, electronics, sensors, and loud speakers. With the co-operation of R&D experts backed by domestic permanent magnet research institute, we also supply engineering and designing magneticsystem service to customers. Our technical knowledge in magnetic products would be significantly helpful in your product development.
NingBo YinZhou Up Magnets Co.,Ltd - A Professional Permanent Magnets&Magnetic Assemblies Manufacture.
Our Advantages
* Comprehensive properties range from N35-52, 30M-45M, 30H-48H,
30SH-48SH, 28UH-40UH, 30EH-38EH, 33AH, etc.
* Good consistency
* High magnetic field
* High surface gauss value Magnetic flux
* Good coatings.72 hours of salt spray test
* Fair Price
* Delivery in time.
* Large stock
* Samples for R&D
* Custom-made magnets
* Production of prototypes
* Consulting service
The highest quality magnets,permanent magnets,complex magnetic assemblies,magnetic devices and expert application assistance for OEM,point-of-purchase,industrial and retail market.
You should Know
Welcome to upmagnet.com - Welcome in our World of Magnets & Magnetic Tools
…… a highly qualified technology company with the highest quality standards and customer service
.
From the beginning until today the nameUPMAG stands for reliability, quality, innovation and expertise in magnetic technology.

We are a major supplier of quality components for military, medical, high reliability industrial, and commercial applications. We have a complete test laboratory giving us the ability to fully test and analyze our magnetic products. Our manufacturing capabilities include state of the art CNC equipment which permits exceptionally short lead times on evaluation units and production orders.

We operate to ISO 9001-2008, TS16949-2009 standards,UPMAG has a reputation for solving complex design problems, supplying consistent quality, delivery and being on target with price.

The focus of our work are the application, development and production of high quality magnetic products and magnetic systems, specifically in the field of permanent magnets. We focus on research, development and production in addtion to the special skills of our staff and intensive dialogue with our customers.
Do you need professional Magnetis solutions For your Business?
CONTACT US
Manufacturer in China

As leading supplier of magnetic products in China, our magnet and magnetic tool products export to over 100 countries all over the world.

History in Magnetic Field

Since 1999, we are providing the most quality magnetic products and service for all our customers in magnetic field.

Full Magnetic Products

Ningbo Up Magnets is your one online-shop magnetic source, in here you can find every magnetic products you need!

Quality Guarantee

UPMAG already have ISO 9001:2008, TS16949:2009, RoHS compliant and other quality certification, will provide customers with quality assurance

Customizable Products

We are custom manufacturer for all types of permanent magnets and magnetic assemblies. We accpect OEM and have the capabilities to produce any magnets in promised time.

Magnetic Solution

Super strong permanent magnetic products for industrial (motor, generator, rotor) commercial, magnetic assemblies and consumer use. Our aim is to supply you the best magnetic solution.